Some products are synonymous with style and become cultural icons. Ray Ban sunglasses fall into that category, occupying the up market end of the sunglasses spectrum. The company was founded in 1937 by Bausch and Lomb who later sold the brand to the Italian Luxottica group in 1999.
One of their most famous glasses is the Aviator, developed in 1937 for a United States Air Force commission. The new Ray Ban sunglasses were the epitome of cool and had dark lenses that were often reflective and a teardrop shape. Other manufacturers have copied this design ever since it first appeared.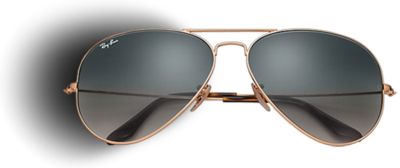 The Aviator took off, being particularly popular with Navy pilots. Civilians began to wear them too and the range is still popular across the population. Police officers also wear them but it is celebrity endorsement that made them really fashionable. Today's versions most often have polarized lenses. Rock stars took to them, including Freddie Mercury and Tom Petty, who were never seen without them.
Another old line, still available today, is the Wayfarer. These too come in a polarized version and have spring hinges. They have been a best seller since their appearance in 1952 and some observers claim that they are the most successful sunglasses ever made. The Wayfarer has a chunky design and has a retro 1950s look. It was Marilyn Monroe and Audrey Hepburn that made it a must have commodity.
Male stars such as Roy Orbison, James Dean and Bob Dylan also gave them credibility. Sales dipped a little after the heady days of the 1950s and 1960s but picked up again in the 1980s when that generation of celebrities started to wear them. It's hard to imagine the following movies without the presence of Ray Ban sunglasses; the Blues Brothers, Top Gun, Reservoir Dogs and Men in Black.
Today, there are various products in the range with a wide choice of colors and lenses and the company continues to have a high profile and celebrity image. The parent company, Luxottica, own many prominent businesses and the financial stability of Ray Ban seems secure. The company chooses to sponsor events that are in keeping with their chic image, including the prestigious Sundance Film Festival. They have also sponsored the Honda Formula I racing team since 2004. The Ray Ban sunglasses logo appears on the side of race cars and on the visors of Jensen Button and Rubens Barrichello. Some companies offer discounted replicas of Ray Ban products but there is no substitute for the real thing.